About Me
Hello! I'm Lucy Aphramor, poetitian (Radical Dietitian/Poet). Thanks for your interest, I hope there's something here that's useful.  If so, I look forward to connecting.
I came to food and body work through my own experiences of body shame, alienation from self, gut problems, and eating disorders. I didn't have a vocabulary for what I was going through at the time. If I had, I'd have added mental health problems and living with silence, oppression and trauma. And I'd have also have known about my privileges, especially around class and whiteness.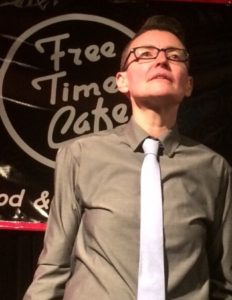 Outside of dietetics I've worked in mental health and disability advocacy. These days my focus is on transmuting trauma through food and body stories, using a Well Now philosophy. I do this through a symbiosis of poetry and dietetics, performing, teaching, seeing cludents (client-student), coaching, writing and so on. Transmuting trauma involves personal healing and collective liberation, which are always intermingled and co-constituted. So that's work-wise.
Learning-wise, my deep learning comes with healing. This happens outside of any educational establishment in everyday conversation. More formally,  I've got a degree and a PhD in dietetics, Certificates in Permaculture, and Women's Studies. I've attended workshops around poetry and performance for years, and continue to do so. Before lockdown I started a course exploring Quaker spirituality, an impulse that caught me by surprise. I was planning to do something on the erotic for my project. Together with spirituality – and gender –  the erotic is another live topic for me. Meanwhile I've been studying knowledge from earth-honouring frameworks, and walking a lot, and I can really feel a shift in what and how I'm learning. In particular, I am reminded again and again of the central task of identifying, naming, and generate alternatives to, the norms of white supremacy everywhere it occurs.
Now, a little more about me . . . my big news is that I've just taken on an allotment (community garden). I've previously worked as a market gardener and am looking forward to connecting with weather and earth and growing folk around planting and harvesting again. Weedlings and seedlings. I ran a small bakery for a few years, Lucy's Loaves, and marathons. First I had a life-raft of running, then poetry and growing. I still love running and poetry and gardening but I don't need them like I did. These days I'm held in the flow by connection.  
I am thin and white privileged, British. I grew up middle-class, believing myself to be Christian, straight, monogamous, female. These days I identify as non-theist and queer in many ways. I am still middle-class, the difference that time made is I became aware of classism. For a very long time I also thought I was stupid (for the record, I wouldn't use this word about anybody now). Sure, I could pass exams, even walk off with academic prizes, but that was because I was more driven than my class-mates to work hard, right?  Achievement did nothing to change my self-concept as lacking intelligence.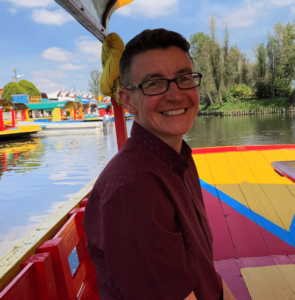 As with all of us, my own experiences, passions and learning will always shape the way I approach life, healing, suffering, teaching, in myself and others. My transformative learning moments have always come from a letting go. The thing I didn't (want to?) consciously know has become known once I've let go of whatever it was that blocked awareness. Always a release, not some fabulous new facts. Though grappling with fabulous new facts will have been part of the process that made it possible for me to know the transformative thing. I'm not trying to be cryptic, honestly! I want to write about my lineage, the scholars, thinkers, artists, friends and mystics who have summarily influenced my own work. It's hard to name specific people or texts because coming to know, and change, has felt like a diffuse process rather than a finding direction across stepping stones that become obvious in hindsight, or a brick by brick accretion of knowledge. I changed because of what/who/who with I was reading and how I was talking and writing and performing. And then my knowing changed.
My lineage and influences
It's really important that we acknowledge the lineage of our scholarship. I've been thinking there's also more of a collage effect that happens too, especially through conversations in-person rather than in my head with a book. Yes, there's a lineage, and there's also a dynamic cross-fertilization going on.
Key influences and influencers include Kimberly Dark (writer, sociologist, performer) and Tian Glasgow (director and producer). They made me brave. They saw me, held me, valued what I had to offer and acted as if of course I'd be my politically-propitious self. Of course. Ha.
My work is strongly indebted to people I've met, andor ideas circulating in, the, ahem, 'disciplinary domains', of feminist writing, poetry, eco-feminism, the unrecovery and survivor movements, critical disability writers, critical psychiatry/psychology, critical dietetics, trauma. I've also learnt lots from hanging out in queer spaces, seeing performances, and from physical theatre work. I am grateful for what I have learnt across all these arenas through being challenged, validated, emboldened andor creatively kindled. Not forgetting being thrown off one course onto another.  
Some iconic authors include: Audre Lorde, Adrienne Rich, David Bohm, Ben Okri, bell hooks, George Orwell, Virginia Woolf, Paulo Freire, Michael Marmot, Nancy Kreiger, Michel Foucault.
I want to specifically acknowledge the significant role of Black writers and People of Colour, noting my considerable ambivalence at what feels an unsatisfactory Othering.
Under the broad banners of public health and nutrition work I meet many caring, thoughtful, smart, fun people who do and say outrageously oppressive things with astounding oblivion. I have learnt and continue to learn heaps from them/you. In different communities under this same banner, other well-meaning, smart, generous, flawed people have taught me lots about the perils of belonging and the trap of orthodoxy. And intersecting these groups, OMG, the way we are hewn into shape by white andor perfessional fragility. I am doubtless saying oppressive things too at times, but of course oblivious of my own oblivion. These encounters incite me to interrogate language, aim for right relationship and risk significance.
I'm signed up (free) to some writers on the blog platform Medium and I get details of new (free) articles via academia. These are both great ways of accessing an eclectic range of reading.
If you'd like to hear more about current influences you're welcome to sign up to my newsletter. It's aspirationally bi-monthly. I think out loud in print about whatever's got my attention that day, and you'll be kept up to speed on upcoming events.
Thanks for reading.
By the way, I welcome feedback on anything I write, in the newsletter or elsewhere, and am really open to ideas for topics to explore next.
Contact Details
Lucy Aphramor
Tel: 07789 471652
Email: lucy.aphramor@gmail.com